UPCOMING Events
25,000 SPINS & BIKES 4 LIFE CHARITY RIDE
MURRAY TO MOUNTAINS | MARCH 19-22, 2020

Bikes 4 Life is honoured to be a part of the 25,000 Spins Charity Bike Ride again in 2020! Join us for a brilliant bike challenge and help raise money for Bikes 4 Life! Our four day cycling tour begins in Albury Victoria and ends back in Melbourne 4 days later with a celebration dinner together. This is a perfect way to discover the diverse and ever-changing landscape of North East Victoria from natural bushland to verdant farmland, delightfully unexpected hidden valleys and some of Australia's most spectacular mountain ranges.
Click here for full details including, registration, itinerary and fundraising target .
---
Past Events
25,000 SPINS CHARITY RIDE – AUSTRALIA DAY WEEKEND 2018
Team @Bikes4Life completed the 3 day, 300km ride through the East Coast of Tasmania! Well done to all the riders, event organisers, the incredible support crew and for all those who sponsored riders who were riding to support Bikes 4 Life!
Special thanks to all the fundraisers who participated in the @25000spins charity cycle, collectively fundraising for 5 charities, including Bikes 4 Life.
Craig Shipton & 25000spins have raised over 91k for this event. What an incredible achievement! Thank you.
Many thanks also to the 9 riders who chose to fundraise and ride for Bikes 4 Life, our rider manager and event coordinator, Angela Poon & Angeline Donaghue, and last but not least, VISA Global Logistics for their ongoing support and sponsorship of all of Bikes 4 Life's initiatives!
If you missed out on this journey, be sure to sign up early for the next
The riders from the Tassie East Coast Charity Cycle Tour with @25000spins 2018
---
MELBOURNE BIKE PREP & PACK WEEKEND : December 9 & 10 2017
1000 bikes, 2 containers and just 2 days! We did it!!
Thank you to our incredible volunteers who helped us with our huge bike pack weekend in Melbourne for our latest projects in Uganda and Pakistan!
Check out the video of the pack day weekend!
---
GLOBAL CYCLE RIDES CHARITY EVENT SYDNEY : September 21 2017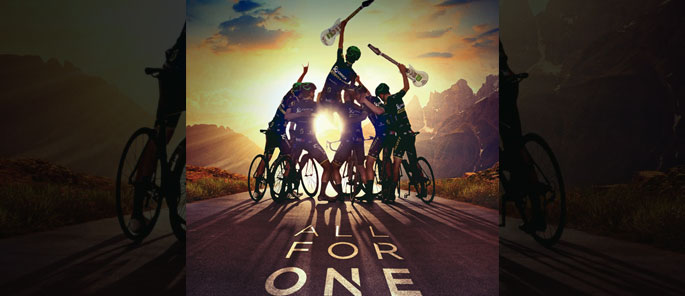 It is with great pleasure that we announce our new partnership with @Global Cycle Rides! GCR offers personal tour rides around the world and road bike rental in 34 major cities. Bikes 4 Life is honoured to be Global Cycle Ride's official charity partner in Australia
In September, GCR organised a special fundraising and film event in Sydney which coincided with the news of our new partnership. Friends and supporters of GCR and Bikes 4 Life came along to see the new documentary film 'All For One' The Orica GreenEDGEStory. It was a fantastic movie – the true story of inspiration in the competitive cycling world.
There was also a silent auction on the night with many items up for grabs including a signed cycling jersey donated by Orica GreenEDGE Cycling. Congratulations to the sucessful bidders.
---
99 BIKES UPCYCLE PROGRAM 2017 : April 11 – May 15 2017
In 2017 Bikes 4 Life are partnering again with 99 Bikes to help get more bikes to people in need, globally. If you donate your old bike – you'll get $50 off a new bike. Easy!
99 Bikes Upcycle gives you the opportunity to send your pre-loved bike to a deserving person, and ensure your old bike is not only recycled, but upcycled for a meaningful purpose.
In some communities a bicycle is not only a means of transport to places of employment and education, but can also provide people with access to remote sources of food, water, medicine and shelter.
Trade your bike in today, or consider donating it to Bikes 4 Life in Melbourne, Brisbane or Sydney!
More info at:
www.upcycle.99bikes.com.au
@99bikes
#jointheupcycle
Thank you!
---
BIKES 4 LIFE MAJOR FUNDRAISING EVENT : FEBRUARY 5 – 7 2017
25,000 SPINS GREAT OCEAN ROAD 3 DAY CHARITY BIKE RIDE CHALLENGE


GEELONG TO WARRNAMBOOL 3 DAY CYCLE CHALLENGE
WE WANT YOU!! RIDER's OF ANY SKILL LEVEL NEEDED TO REPRESENT BIKES 4 LIFE AT THE ANNUAL 25,000 SPINS EVENT – REGISTER TO RIDE HERE.
Bikes 4 Life is honoured to be a part of the 25,000 Spins Great Ocean Road Charity Bike Ride again in 2017, after a hugely successful and amazing event in 2016! Bikes 4 l:if has been selected again – along with six other charities of which each rider can select to raise money for… But we are low in numbers compared to last year and hope we can get some more people signed up to ride for us ahead of Christmas! If you like adventure, cycling and philanthropy then please keep on reading!
Event Date: 5 – 7 Feb 2017
Charities you can Support: Watoto Australia, Fred Hollows Foundation, Bikes4Life, Compassion Australia or ADRA Australia
Registration fee: $150-$200 (includes 2 nights Accommodation, Food, Support, Professional cycle Jersey etc.)
Sponsorship target: $2,500
Minimum fundraising: $1,250
Distance: 186 miles (300 Km)
Fitness Level: The tour caters to all levels of cyclists.There will be a slow, medium and fast groups.
Download the 25,000 Spins Brochure Here: http://www.25000spins.com/images/Great_Ocean_rd_Brochure_2017.pdf
About the Ride:
The Great Ocean cycle tour to help kids in poverty. Our three day cycling tour begins in Geelong Victoria. The Great Ocean Road is world renown for its dramatic seascapes and beautiful bushland with cascading waterfalls, and stunning rain forest. Ancient trees on one side and on the sea side magnificent surf beaches, high cliffs and incredible rugged coastal scenery and landscapes.
The tour caters to the social rider who is wanting to push themselves with a new challenge through to the keen weekend cyclists. We have fast, medium and social groups with different event distances so that everyone is catered for. Riding as a single group of no more than 28 riders with a support van and car protecting the riders. The total distance covered is 300 km over three days.
Riders on the Great Ocean Road during last years 25,000 Spins Event
The Journey: Geelong to Warrnambool
Bikes 4 Life is Proudly Supported by Craig Shipton and 25,000 Spins. http://www.25000spins.com

FREQUENTLY ASKED QUESTIONS
What is included?
1. Accommodation (2 nights).
2. Food. Breakfast and lunch. Lunch on day 3 not included.
3. One way train ticket. Warnambool to Melbourne.
4. Bike repair. A mechanic will be on the trip.
5. A support van which carries your bags and are there to help and offer support during the ride.
6. Great Ocean tour guide.
7. Trip video.
Insurance and vaccinations 
It is a condition of joining our trips that you must be adequately insured. All persons are expected to arrange their own travel insurance.
Cycle support and grading
All of the time you will have the security of a back-up vehicle. The vehicle will carry our entire luggage (we transport your main baggage by support vehicle from each overnight stop to the next). The back up van will be with us throughout the day stopping around every 15 miles. Our leaders carry a good tool kit and will help to fix any bike problems so all you normally need to carry is a daypack, for your camera etc, however, we cannot guarantee that we will be equipped for all repairs, so you must ensure that your bike is in good working order before the tour. If in doubt, have it fully serviced by a bike shop before you travel.
Equipment and bike stuff 
This tour is suitable for most bicycles; however, please ensure that you bike is in good working order before you leave on tour. If you are not the most mechanically minded we suggest that you get your bike looked at by a professional bike mechanic. In particularly we would suggest looking and adjusting all wheel spokes, greasing all your bearings, checking your brakes/gears cable, tighten all nuts and bolts, check chain, quick release clamps, tires and put in new inner tubes and check wheel rims are not worn. In addition make sure the bike is well serviced and ride it with as much care and attention as possible. We would also advise the following tools to accompany you on your tour: multi-tool, tyre levers, pump, 2 spare inner tube, if applicable, spares for any unique or high-tech items on your bike, e.g. fluid and bleed kit for hydraulic brakes. In terms of clothing this is clearly up to you and we can only supply a rough guide as to what to take. This guide is entirely flexible and should be tailored to your specific needs. Sunglasses, cycling footwear, Lightweight socks, 2
How much money goes to charity?
At 25000spins we pride ourselves on running professional trips at unbeatable value. Our core reason for running these cycle trips is to maximise the funds that actually reach the field and help people in need.
The deposit amount you pay as a cyclists doesn't fully cover the trip and event costs. For the first three years of operation 25000spins covered the balance of these trip costs. However as we expanded the number of trips offered and the number of people joining increased this was no longer sustainable.
We invoice the balance (Trip costs – your deposit) of the trip costs back to the charity only when you successfully fundraise. If you don't fundraise we don't invoice the charity any money. We keep our trip costs as low as possible without impacting on your safety and enjoyment.
Is this trip for me?
Absolutely! This trip is a fantastic challenge for anyone wanting to do something amazing for a great cause. There will be lots of like minded people on the trip all looking for the challenge of a lifetime and of course to meet new friends. Some people come with friends or family.Places are strictly limited so to avoid disappointment apply to join today.
How fit do I need to be?
We will be cycling as a group so you must be comfortable with group riding. The tour caters to the keen weekend cyclists. Riding in either the fast or slower groups depending on your experience and fitness. There will be support vans their all the way to help you reach your goal of cycling the Great Ocean rd.
Is there a minimum to be raised?
A minimum of $1,250 needs to be raised to join the trip.
What if I don't raise the minimum of $1,250. Can I still go on the trip?
You can either choose to top up your fundraising to reach the miniumum of $1,250 to join the trip or you will forfeit your deposit and will not be able to join the trip. 25000spins.com offers as much support as possible to avoid this situation happening.
---
'25,000 SPINS GREAT OCEAN ROAD' 3 DAY CHARITY BIKE RIDE CHALLENGE : February 7 – 9 2016
POST EVENT UPDATE: This was a huge success and we had 12 riders participate – and they collectively raised close to $14,000 for Bikes 4 Life!
Support Bikes 4 Life and cycle the Great Ocean Road (7 February – 9 February 2016). The cycling tour begins in Geelong, Victoria and ends in Warrnambool. The Great Ocean Road is world renowned for its dramatic seascapes and beautiful bush land with cascading waterfalls, and stunning rain forest. You will spend three days enjoying 300 km of stunning scenery from the 12 Apostles to iconic surf breaks.
This is Bikes 4 Life's first year of involvement with 25,000 spins and we'd love as many riders as possible to choose Bikes 4 Life as the charity to fundraise for. The ride will be capped at 90 riders so get in quick!
There is a sign-up fee: Early Bird is $150, later is $175 and later again is $200. To be eligible for the ride, each rider must raise funds to a minimum of $1250. Social media is a great way to get a head start, asking friends and spreading the word about our cause.
Don't forget to choose Bikes 4 Life as the charity you would like to raise funds for. For more details, please check out the event website.
For more information on Bikes 4 Life's involvement in this fantastic event, please contact Ebony Butler [email protected]
---
2015 ANNUAL VOLLEYBALL FUNDRAISER
We raised almost $2,000 at our annual volleyball fundraiser on Friday night at Insportz Sandringham, with many thanks to Angela Poon of our Melbourne warehouse for organising the event!! All the funds will be going towards to our upcoming project in Northern Uganda with Union of Hope.
Check out some pics of the event:
If you didn't make it to the event start practicing so you can join in next year.
---
2014 BIKES 4 LIFE ANNUAL FUNDRAISER LIVE AT THE TRAK | OVER $50,000 RAISED!
Glen Moriarty from Channel 9 and Tottie Goldsmith hosted our Bikes 4 Life Fundraiser at Trak Toorak.  The aim of our event was to raise funds and awareness for our upcoming Indigenous and international projects. We raised an incredible $50,000!
'LIVE AT THE TRAK' was  an opportunity to celebrate our achievements over the past year together with our supporters and to encourage more people to get involved with us.
---
Host an Event
At Bikes 4 Life, we are a bunch of self-starters! Volunteering is a generous gift that we greatly appreciate, we are always looking for volunteers inside and outside the workshop.
However, for some people they dance to a different beat and would like to invite us into their life journey. Recently, we had the pleasure of Adeena suggesting a huge adventure where she would bike ride with bare feet with a BIG Teddy bear, over 2700km from Sydney to Cairns to raise awareness and to generate some donations for Bikes 4 Life. Where did she come from? Who is she? She is originally from South Africa, a part-time gypsy and loves going on explorations on her own terms, she has sailed the world and fought off pirates! True story. Not only did she complete this amazing feat, she also made a few headlines along the way. She was motivated by our mission to replace the cycle of poverty with a cycle of hope. What a gem! Follow her incredible journey here.
Another stand out performance is from Angela, our Melbourne workshop manager. When she first started volunteering she had a bright idea to organise a charity Beach Volleyball tournament to raise funds for Bikes 4 Life. What turned out to be a true success, her coach decided it would be an annual tournament! From little things big things grow.
Inspired? Whether you are an individual, school, group or friends and want to get involved, please share your ideas with us and we will support you anyway we can.
Please email [email protected]
---
Event Supporters