COMMUNITY WORKSHOPS
Our workshops are fun and suitable for people of all ages and backgrounds. No bike experience is needed! Our workshops are currently on hold whilst we move into our new premises. Stay tuned for more info!
WORKSHOP & VOLUNTEER ENQUIRIES
VOLUNTEERS NEEDED.  Please get in touch if you are able to help.  Experience welcome but not necessary.
Bikes 4 Life Brisbane Managers
Lester Neumann or John Gamble
E: [email protected]
WORKSHOP ADDRESS
The Brisbane Community Workshop formerly located at the Nundah Activity Centre is now closed.  Despite our best efforts a new location has not yet been found, but we are working hard to find a new home!
Watch this space for the reopening date and full address details!
Brisbane news
WE ARE RELOCATING
We are relocating!! Our workshop is closed whilst we search for a new workshop location. More information to come and we will update our contact details when the relocation has completed.
TIWI COLLEGE, MELVILLE ISLAND, JANUARY 2021
We are proud to report that we donated 25 bikes to the Tiwi College of Melville Island. The bikes needed to be fitted with thorn resistant tyres and tubes to deal with the terrain and vegetation! A big thank you to Simon National Carriers who greatly assisted this project by providing free transport Darwin!
MILPERA STATE HIGH SCHOOL PROJECT
Bikes 4 Life, Brisbane donated 15 bikes to the school to support their program for teaching students how to safely ride a bike and understand road rules. At the end of the course, the children receive a bike, giving them greater mobility. The Milpera school provides high school education to newly arrived non-english-speaking migrant/refugee children. The bike program is run by Michael Jordan from Cycling Australia and officers of the Police Citizens Youth Club, Lang Park.
ALGESTER SCOUTS & VENTURERS
Thanks so much to the Algester Scouts & Venturers who recently came down to help at our workshop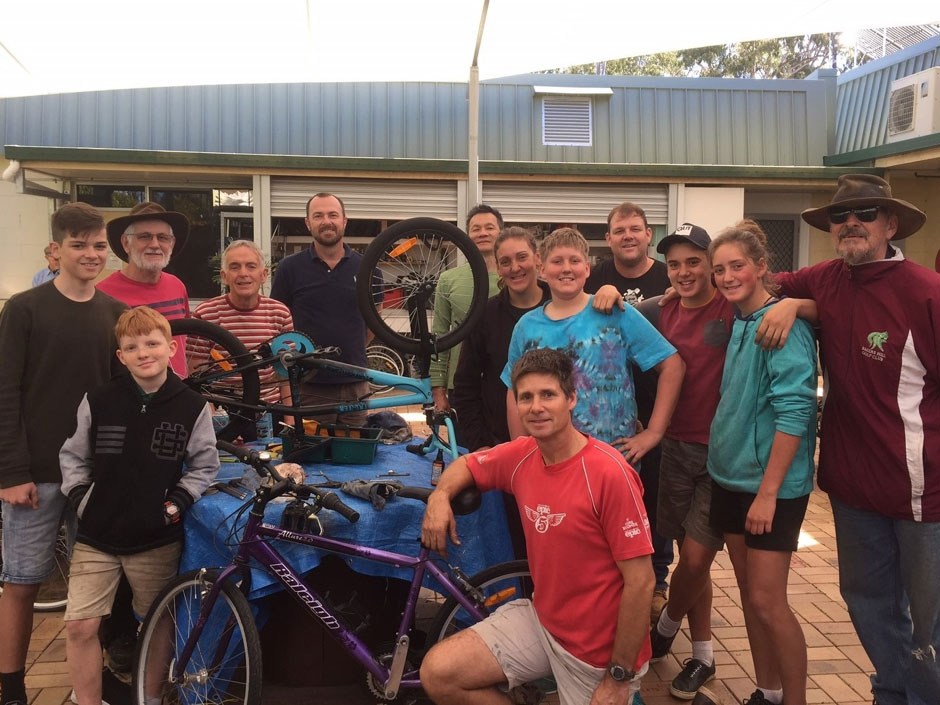 Algester Scouts & Venturers
OCTOBER 2016: Bikes 4 Life Brisbane have another container of close to 450 bikes on the way to Sierra Leone in West Africa! The bikes and container arrive early November! We will be supporting our in country charity partner 'The Fig Tree Children'. Congrats to all involved and many thanks to those who gave there time and resources to help make this huge project happen! A big shout out to our partner NAC and Visa Global Logistics who ensure our containers get shipped around the word and the bikes delivered to those who need them most! Special mention to Big Lift for their help preparing bikes and loading the container.
AUGUST 2015: We have packed and managed our first ever international project and have a container of bikes all ready for shipment to Nauru! See our Project Page for more info on the Nauru Bike Project, supported by MDA.
JULY 2015: Success for Bikes 4 Life Queensland!
We met our target of 200 bikes for the Aboriginal community of Pormpurraw in Cape York.
On Thursday 30th April, despite the rain, we packed a container full of bikes. MDA painted a great design on the container. The bikes travelled north on Monday 4th May and bike mechanics from 99Bikes travelled with the bikes.
Congratulations and thanks to all the volunteers who fixed bikes, donated time and effort, muscle power and good humour. Thanks to everyone who donated bikes…they have gone to a new life in the north!
Ebony Butler, founder of Bikes 4 Life came up from Melbourne with Simon Hardwidge, CEO of Global Logistics and "expert" packer, Phil Nurcombe.
Phill showed us how to get more bikes than we had imagined possible into a container!
Volunteer with us
We're always on the lookout for skilled, short and long-term volunteers for our bike workshop. No experience is necessary, however it's always welcomed! If you would like to volunteer in Brisbane please contact John Gamble or Lester Neumann to register your interest. All volunteers need to complete an application form. Click here to download the form.
Donate a bike
Due to the relocation project currently underway, donations of bikes cannot be accepted until late January/February 2023. Contact John Gamble or Lester Neumann for any enquiries.
Click here for tips on how to prepare your bike for donation
REQUEST A BIKE / PROJECT PROPOSAL
If you are an organization or know of a deserving organization that has a need for bikes either locally or internationally, then please contact Ebony Butler with your proposal. We are aiming to send approximately 5 containers of bikes per year and are currently looking for partners for our 2022 and 2023 projects.